EP/USP Standard Ginkgo Biloba Extract Glycosides24%, Terpene Lacosides6%
Product Description
Product Description  Product Name: EP/USP Standard Ginkgo Biloba Extract Glycosides24%, Terpene Lacosides6% Product Specifications: Product name:  Ginkgo Biloba Extract Botanical Source: Ginkgo Biloba L. Specification:  Total Flavone Glycosides 24% &Total Terpene Lactones 6.0% CP20105/  EP version/ USP version Quercetin
Molecular Formula: C15H10O7
Molecular Mass: 302.23
CAS No.: 117-39-5
Constitutional Formula:   Kaempferol  Molecular Formula: C15H10O6
Molecular Mass: 286.23
CAS No.: 520-18-3
Constitutional Formula:  
  Isorhamnetin 
Molecular Formula: C16H12O7
Molecular Mass: 316.26
CAS No.: 480-19-3 
Ginkgolide A
Molecular Formula: C20H24O9
Molecular Mass: 408.39
CAS No.: 15291-75-5
Ginkgolide B
Molecular Formula: C20H24O10
Molecular Mass: 424.39
CAS No.: 15291-77-7
     Ginkgolide C Molecular Formula: C20H24O11 Molecular Mass: 440.39
CAS No.: 15291-76-6
Bilobalide 
Molecular Formula: C15H18O8
Molecular Mass: 326.29
CAS No.: 33570-04-6
Description:
Ginkgo biloba also known as the Maidenhair Tree after Adiantum, is a unique species of tree with no close living relatives. The ginkgo is classified in its own division , the Ginkgophyta, comprising the single class Ginkgoopsida, order Ginkgoales, family Ginkgoaceae , genus Ginkgo and is the only extrant species within this group.  
Ginkgo biloba's most powerful effect is on the circulating system. Ginkgo flavenoids directly dilate the smallest segment of the circulating system, the micro-capillaries, which increase both blood circulation and oxygen levels in the brain as well as in other critical organ tissues.
Ginkgo biloba extract also prevents platelet aggregation or clumping inside the arterial walls. This increases arterial wall dtrength and flexibility and decreases the opportunity for the formation of arteriosclerostic plague. Since ginkgo biloba extract increases oxygen flow to the brain and enhances the brains uptake and utilization of glucose it also is being reasearched for its role in the senility, forgetfullness, headaches and alzheimers disease and its role in improving alertness, memory and mental performance.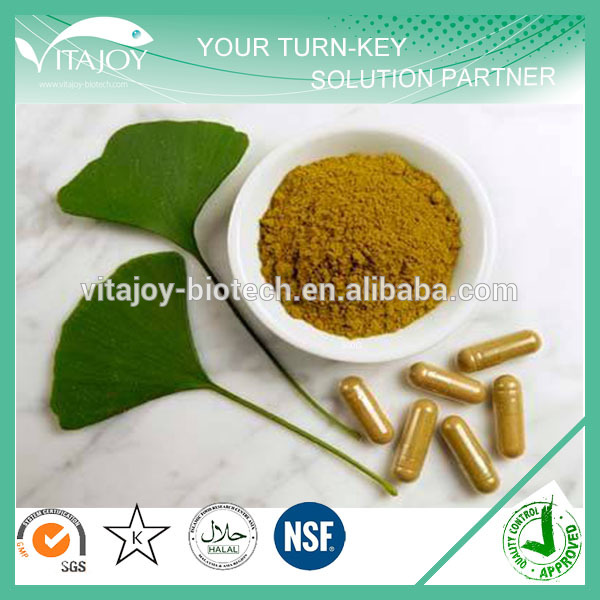 Main Functions:
-Ginkgo biloba extract is an effective anti-oxidant.
-Ginkgo biloba extract can be used for anti-cancer and preventing cancer.
-Ginkgo biloba extract can promot cerebral blood circulation and cellular metabolism.
-Ginkgo biloba extract has the function of lowering blood pressure and high blood fat.
-Ginkgo biloba extract is tonifying kidney and nourishing brain, whitening and anti-wrinkle.
-Ginkgo biloba extract is effective on dilating blood vessels, promoting blood circulation and enhancing immunity. Applications:
-Applied in health product field, ginkgo biloba extract can effectively reduce breast pain and emotional instability.
-Functional foods areas: ginkgo biloba extract has effect on protecting vascular endothelial tissue, regulating blood lipids.
-Applied in pharmaceutical field, ginkgo biloba extract can be used for treating stomach-ache, diarrhea, high blood pressure, nervous and respiratory diseases such as asthma, bronchitis.   Specification Sheet:
| | | | |
| --- | --- | --- | --- |
| Item | Specification | Result | Test Method |
| Total Flavones Glycoside | NLT24% | 24.9% | HPLC |
| Ginkgolic Acid | NMT5ppm | Conforms | HPLC |
| Appearance | Fine powder | Conforms | Visual |
| Color | Brownish yellow | Conforms | Visual |
| Odor | Characteristic | Conforms | Organoleptic |
| Bulk Density | 0.55~0.68g/ml | 0.58g/ml | CP2010 |
| Loss On Drying | NMT5.0% | 2.7% | 5g/105℃/2hrs |
| Residue On Ignition | NMT5.0% | 2.0% | 2g/525℃/3hrs |
| Sieve Analysis | 100% pass through 80 mesh | Conforms | 80 mesh screen |
| Heavy Metals                         | NMT10ppm | NMT2ppm | AAS |
| Lead(Pb) | NMT2.0ppm | Conforms | AAS |
| Arsenic(As) | NMT1.0ppm | Conforms | AAS |
| Total Plate Count | NMT10,000cfu/g | Conforms | AOAC |
| Mold and Yeast | NMT3,000cfu/g | Conforms | AOAC |
| E.Coli   | Not Detected | Not Detected | AOAC |
| Salmonella | Not Detected | Not Detected | AOAC |
| Staphylococcus | Not Detected | Not Detected | AOAC |
  Our Services   Packaging & Shipping   Company Information  Vitajoy, a leading supplier of
Herbal Extracts
,
Amino Acids
and nutritional supplements, starts our business in China and branch out business with eight overseas offices around the world. Vitajoy is strengthening the extent and scope of our sourcing ability, not only in China, but also in other regions. Vitajoy is building a global sourcing network to constantly provide exciting new health care raw materials, finished products, speciality chemicals and innovative ideas to our customers. Vitajoy invest considerable amount of manpower and tremendous scientific research for new applications of traditional
Botanical Extracts
, amino acids, nutritional supplements, and functional formulas. We are dynamic in developing new active components and ingredients and wild source under the premise of the continuity and diversity of herbs.
Vitajoy guarantees a demand satisfaction from all customers by supplying innovative quality products in line with such modern management systems as ISO9001-2000,ISO14001-2000,ERP
Contact us if you need more details on Ginkgo Biloba Extract Powder. We are ready to answer your questions on packaging, logistics, certification or any other aspects about Ginkgo Biloba Extract Tablet、Usp/bp/ep. If these products fail to match your need, please contact us and we would like to provide relevant information.
Product Categories : Herbal Extracts